Wool – cleaning, washing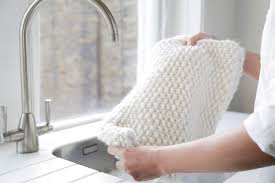 ♦ Pure wool and other high-quality wools, such as angora, moher, cashmere, camel or llama wool, please hand wash carefully. First, you need to soak the garment in lukewarm water with a hair conditioner or a moisturizing detergent, then wash by squeezing. Knock a few times in lukewarm water. Some glycerin is added to the final rinse (Pharmacy).
♦ After rinsing, the garment is wrapped in a terry towel and carefully squeezed out. We dry the product "lying down", best to put white towels between the front and back of the garment and into the sleeves. Wool should not be dried in the sun or on a radiator.
♦ Clothes labeled "Machine washable" or "Superwash" are washed in the wool program.. So that things do not get damaged during washing, the maximum number of items to be placed in the washing machine drum 1 kg of clothing. Each item should be turned inside out and put in an old pillowcase. Together, we only wash clothes of the same color using special wool detergents; the maximum washing temperature is 30 ° C. Wool can also be washed in a hair shampoo with glycerin (spoon of glycerin on 10 liters of water).
♦ Wool clothes can be softened a little, firmly kneading it, if it "scratches", let's put it on around 30 minutes to lukewarm water with the addition 2 spoons of hair conditioner, and then rinse quickly, lightly squeezing and spreading out on a towel. Then you have to unfold it loosely again and pull it on, giving it the right shape.
The washing and rinsing water should have the same temperature; with a large difference, the wool will harden. Because wool cannot be wring out, it needs to be spun briefly in the washing machine.
♦ Fine hairs will straighten, if you wrap your clothes in a plastic bag and put them in the freezer for a short time. You can also "fluff" Italian with a cold blow from the hair dryer, and then shake the clothes hard.
♦ So that white wool garments do not turn yellow quickly, for each liter of washing water, add a teaspoon of borax (Pharmacy).
♦ It is not necessary to wash woolen garments after each use. Often it is enough to ventilate it well.
♦ Some woolen garments can be ironed. So that shiny spots do not appear on them, should be ironed through a cloth dampened with vinegar (ironing with steam). Shiny spots on black clothes can be brushed with cold black coffee.
♦ The sweater's stretched ribbing will regain its original shape, if we immerse it in water for a short time and dry it well. You can also sew some hat bands on the underside of the welt.
♦ Knots, which appear on wool sweaters, can be removed with a special razor (supermarkets). When cutting, the surface of the sweater should be taut.
♦ To keep wool and jersey clothes from stretching, they must be submitted, and not hung on a hanger.
♦ Wash the woolen gloves by hand in lukewarm water and put them to dry on a well-absorbing surface.. The gloves will be more resistant to water, if you put them on after washing 10 seconds to basic aluminum acetate.
Wool blankets
Wool blankets are washed only in lukewarm water and with a wool detergent. They cannot be rotated. After washing, hang the wet blanket diagonally on a string, so that the water can drip from the horns. This allows the blanket to dry evenly. After drying, it can be combed with a soft hairbrush if necessary.
A bag for washing delicate underwear
The bag is designed for washing small or delicate clothes in an automatic washing machine. It can be sewn from an old dense net curtain. A string to tie needs to be sewn on the edges.