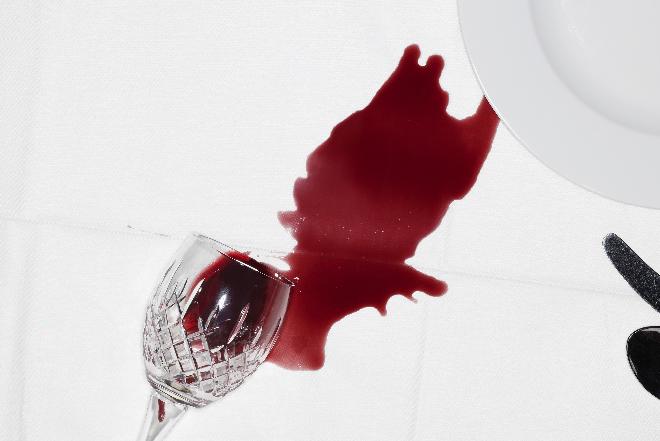 Wine stains. Remove the stain as quickly, as possible. Clothes must be sprayed or moistened with soda. The fabric, e.g.. tablecloth, after drying as thoroughly as possible, sprinkle with salt.
It is best to take your valuable clothes to the dry cleaner.
Wine spilled on the upholstery must be collected as carefully as possible. Apply a cloth with warm water; alternately moisten with a cloth and dry. Cover the stain with a dry napkin and sprinkle with talcum powder. Cover with a second napkin and press down with something heavy. Napkins and talcum will absorb the moisture from the stain. Remove carefully. Vacuum it.
To remove red wine stain, which spilled onto the carpet, it is dissolved with white wine, then cleans with cold water and sprinkles with salt. You should wait 15 minutes, then use a vacuum cleaner to remove the salt.
Another method of removing the wine from the carpet is to collect it immediately and spray the stain with soda. Drain on a regular basis. Make a thick paste of borax and warm water and rub it deeply into the pile of the carpet using a toothbrush or hand brush. Leave it overnight, then vacuum it. if it's required, repeat even several times.