Stain removal, especially from delicate and valuable fabrics, presents considerable difficulties. Therefore, when we stain valuable clothing, the origin of the stain is unknown to us, it is safer to go to the dry cleaner, where stain removal is carried out by a specialist with the appropriate equipment and chemicals. However, if you decide to wash, iron or remove stains yourself, see the tips below.
Currently, we meet more and more often with products made of synthetic fibers. To avoid damage due to improper washing, chemical cleaning, ironing or stain removal, clothing manufacturers mark products with contractual symbols of use, the so-called. manipulative symbols, which make it easier for the user to maintain the garment. The figure shows the basic handling symbols, and in the second figure - Polish and international warning signs. According to the regulations in force, these symbols must be placed on all textile products, which can be damaged due to improper handling.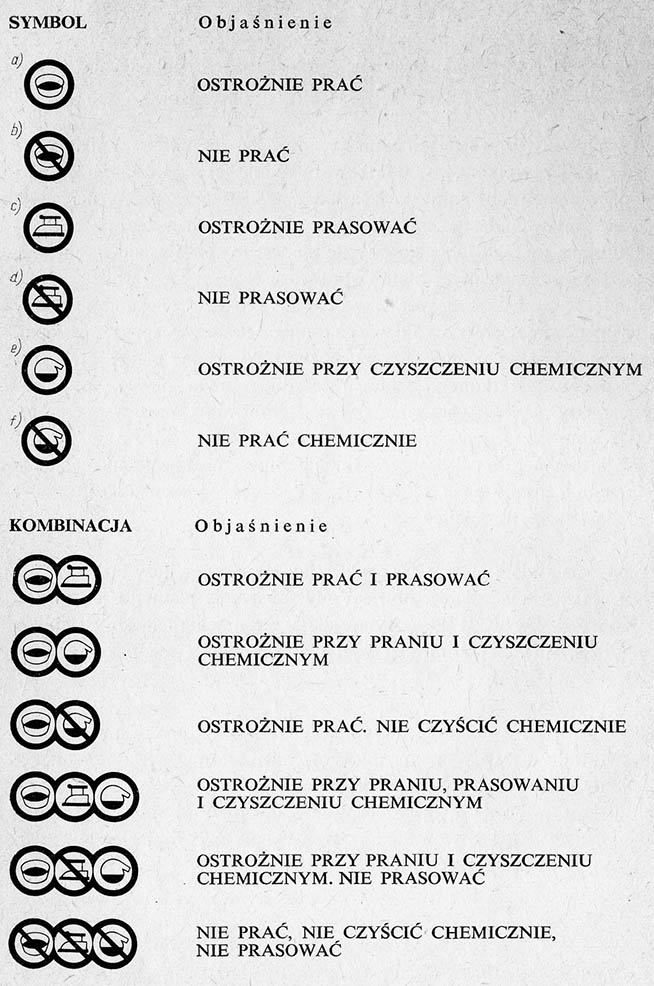 Textile products not resistant to washing (a i b) can be washed like delicate underwear, i.e.. at 40 ° C or like colored underwear, i.e.. at 60 ° C, or only dry.
Textiles not resistant to high temperatures (c i d) are embossed fabrics, crinkled, waffle, drapane (e.g.. dewetyna), products of certain synthetic fibers (pressing temperature). Some textiles can be seriously damaged by chemical solvents and ordinary stain removers (e i f). In these cases, only gasoline is used to remove stains, which does not damage any fibers. When using gasoline, however, strictly follow the regulations governing the handling of flammable chemicals. Of course, non-chemical-resistant textiles must not be dry-cleaned. Handling symbols are printed in blue. For products not resistant to washing, high temperatures and the effects of solvents, the signs may contain a combination of two or even three symbols. Possibilities of such combinations are also shown in the figure. As already mentioned, Before removing stains, be aware of all possible contraindications, to avoid unnecessary trouble and losses.