Gluing broken glass
When gluing broken glass, a slightly modified method of gluing porcelain is used. Broken glass pieces have very sharp edges, so you have to be careful. Epoxy resin perfectly sticks glass together, but its color draws the eye to the seam.
To make it less visible, use transparent anaerobic glue, hardened with ultraviolet rays contained in daylight.
The glue hardens in direct sunlight 10 seconds, on a cloudy day – after approx 2 minutes.
It is best to stick the item under artificial light and the curtains drawn. After gluing, just slide the curtains back and leave the object in the daylight on 24 hours.
Before gluing two pieces of glass together, clean their edges with denatured alcohol or white spirit and stick a piece of tape to the pan. Apply the anaerobic glue in small droplets to both edges and smooth with a scalpel, to create a thin layer. Then fold the edges together, squeezing out the excess glue between them. Secure with tape, making sure that the tension is the same on both sides. Run a knife over the bind, to detect possible displacements and correct errors. Wipe off any excess glue with acetone. Sometimes, the fitting of two glued edges together is made difficult by the smoothness of the surface that promotes slippage.
If the glass is thick, you can lightly sand the edges before gluing. In other cases, try to apply as little glue as possible.
Finally, expose the item to sunlight and set aside overnight, for the glue to harden well. Clean the joint area with a sharp knife. Do not use abrasives, which may scratch the glass.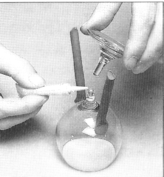 Sticking the glass leg
Place the glass upside down and glue both parts of the stem together, ensuring the even position of the presser foot. Block the presser foot with two rollers of plasticine while drying.
Bonding with tinted glass
Frosted glass often blocks exposure to ultraviolet rays. So, if you want to glue an object made of such glass, you cannot use anaerobic glue, because it cannot be hardened. Try using cyanoacetate glue or epoxy glue with the appropriate pigment added. Before mixing the two components of the adhesive, warm them in the tubes on the radiator, so that the resulting glue is in a fluid form.