Repairing the spout of a teapot
It is possible to model the missing part of the spout directly on it. You only need to construct a support for the putty. Plug the mouth of the spout with plasticine and recreate the bend of the spout. Cut off excess plasticine and sprinkle the rest with talcum powder.
Coat the jagged edge with epoxy glue, and then cover the plasticine with epoxy putty, smoothing it like this, to take the shape of a spout.
The soft putty sometimes needs to be supported by covering the spout with tape. After the putty solidifies, remove the plasticine, sand the spout to the desired shape and paint it.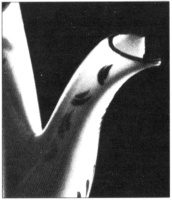 Playing a beaten spout
The end of the teapot spout is particularly susceptible to injury, ending with its breaking off. Modeling the missing part is a very simple task, thanks to which the teapot will look like new.