Repair of a crushed object
You will need a paper knife shaped piece of wood to repair a crushed object, with gently rounded edges. Smooth them with paper
abrasive and cover with a layer of wax. Slide them inside the flattened object and make rotational movements, slowly restoring its former shape. When the object takes its proper shape, prepare the second piece of wood, which will be pushed inside it, cover them with a layer of wax and slowly place them in the restored interior. When the wood is inside, model the metal more precisely, smoothing out any unevenness.
Inserting the first piece of wood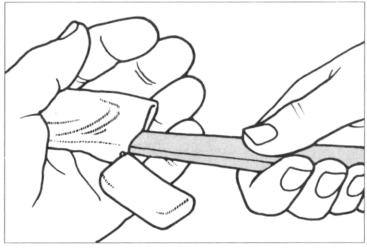 Gentle lifting and rotating movements will allow the wood to be inserted all the way to the bottom of the object.
Removal of inequalities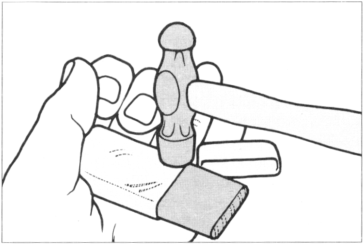 Hold the object with the wooden pattern tucked in and tap it gently with a light hammer.