Recreating damaged ornamental motifs
After recreating the background, but before applying a layer of varnish, recreate any ornamental motifs.
Use acrylic paints spread with water.
Choose the right shade as described above.
The best painting tool is a pointed brush with sable bristles. You can also draw extremely delicate motifs with a feather or a toothpick.
It is possible to transfer the repeating pattern from another part of the vessel, by smearing the underside of the tissue paper with a soft pencil, on which you have traced the pattern. After putting it on a blank space and tracing the copied drawing, you will imprint its outline on the porcelain.
Playing themes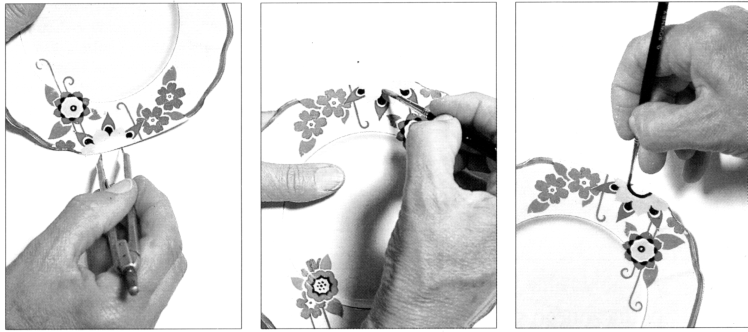 1 Sketch the pattern with a pencil, trying to mark the lines with dots. The compass will help you measure larger patterns.
2 Start working from the edge of the vessel. Apply the first color. If you accidentally paint over an existing theme, remove the paint with a toothpick moistened with solvent.
3 Apply the rest of the colors, following a pencil sketch. After drying, paint over the recreated pattern with a layer of clear varnish.