How to dry your shoes, which got wet?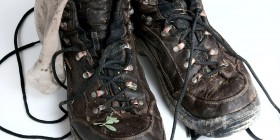 It happens especially in autumn, that we come home in wet shoes. Poniżej przedstawiamy kilka prostych uwag jak szybko uporać się z tym problemem.
Will be needed:
Newspapers
A stove or a heater
How to go about it?
We stuff our shoes with warm newspapers heated on a stove or stove.
We change them several times, when they start to get wet.
We put the shoes on the side, so that the soles dry faster
Additional suggestions:
Buty umieszczamy z dala od pieca czy grzejnika.