How to clean the grill?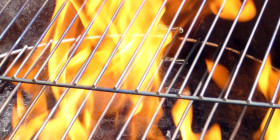 Grilling outdoors is a lot of fun, but also requires regular cleaning. Here are some tips, that will help you make, that your grill will be clean and the garden will be full of guests.
Will be needed:
Water
Bucket
Soap
Wire brush
Onion and fork
How to go about it?
Fill a bucket with hot water and pour a little soap into it.
Disassemble the grill and immerse its other parts(grate, e.t.c.) in the water.
Let them soak in the bucket for a few minutes.
If there is a lot of debris at the bottom of your grill, use a flat knife and start scraping off the charred dirt. Repeat this action several times if necessary.
To clean the bottom and the entire inside of the lid, fill the bucket with soapy water and use a wire brush to deal with stubborn dirt.
Remove any parts of the grill that soaked in water from the bucket and start scrubbing them thoroughly. Use wire brushes.
After washing the grill, leave it in the fresh air to let it dry by itself.
Additional suggestions:
The fastest method of grate cleaning:
Peel the onion, cut in half and put on a fork
Rub it on the hot grill grate.
Onions do not just clean the grate, but it will also add an interesting flavor to your dishes, which you will then fry.