How to remove tar or asphalt from shoes?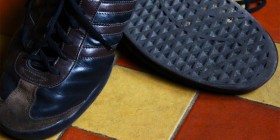 Today's advice will help you deal with dirt caused by the contact of shoes with tar or freshly laid asphalt. Will be needed: old toothbrush, lighter gas or WD-40, dish soap.
How to go about it?
Soak the stain with gasoline or WD-40 and wait a while.
Scrape off the remains of the stain slowly with a brush.
We rinse the dirty place with water mixed with dishwashing liquid.
Of course, let's remember about common sense. Usually, spots of this type appear on the sole and in this case the described method works perfectly. In case of dirt on the upper of the shoe, judge for yourself whether the above solution will not harm the material the shoes are made of.