How to clean wax and stearin residues from tinned candlesticks?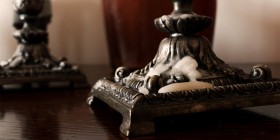 Tin candlesticks? In the era of ubiquitous plastic? I still do. I think, that many of you have older items made of tin or other metals in your collection. In today's tip, we'll focus on cleaning tin candlesticks soiled with wax and stearin. The method that I will present to you is simple and quick. I think, that it can successfully replace traditional scraping, which is often inaccurate and causes additional soiling. Will be needed: efficient freezer and hair dryer
How to go about it?
We put the candlestick for approx 15-20 minutes into the freezer.
We take out and clean, tearing pieces of wax off the candlestick.
With a hair dryer, we can remove cleaning residues according to the above method.