How to clean a lip liner stain?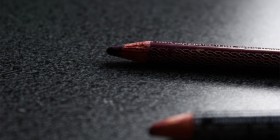 After passionate kisses with a girl, did you notice red marks on your clothes?? Or maybe you dear ladies, sometimes you accidentally get a garment dirty while putting on your make-up? If you have a problem with it and the lip liner has stained your shirts, blouse and other clothes then this tip is for you. Will be needed : glycerine, alcohol, hot water, detergent.
How to go about it?
We rub the stain with glycerin, and then gently rubbing alcohol.
We add the washing powder to warm water and with the mixture prepared in this way we clean the clothes.