How to clean your dog's ears?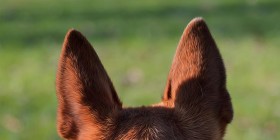 Discharge from a dog's auricle is often the cause of a dirty earlobe, and in the worst case it can cause the lumen of the ear canal to close. In today's tip you will learn how to wipe your pet's ears.
remember! Nigdy nie wkładaj swojemu psu patyczków z wacikami lub innych narzędzi głęboko do kanału usznego. These are prohibited activities, which may cause inflammation within the auricle. It must be noted, that discharge, which forms at the opening of the ear canal is essential for the maintenance of normal flora in the ears, therefore, its complete removal is inadvisable.
The only thing you can do is wipe the earlobes with a cotton swab dipped in a care olive or water and, if necessary, collect the excess earwax., which has deposited at the mouth of the ear canal. If the ear canal is blocked, do not worry, but consult a veterinarian. The same applies to the use of preparations that dissolve deposits in the ear canal. Their use for dogs should also be consulted with a specialist.