How to clean a central heating radiator?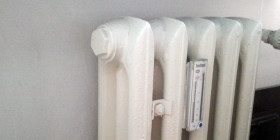 The radiators are designed this way, that all dust and dirt can get deep into the ribs. It takes some time to get through this. With a little effort, your radiator will look great and the fragrance will cheer you up.

Will be needed:
Hot water
A soft cloth
Nice smelling detergent
Perfume oil
Flower sprinkler
How to do it?
We clean first with a dry cloth, to remove dust.
Wash the radiator with warm water, a nice-smelling detergent and drops of fragrance oil.
Rinse with a flower sprinkler. It washes well all dirt from nooks and crannies.
After rinsing, apply fragrance oil. The scent will spread through the house gradually, providing a good climate.