Coffee stain
Dry it as soon as possible and wash off as much as possible with a cloth dampened with cold water. Rub the stain with detergent and rub the spot, then wash the fabric in the usual way.
If the stain does not come off, and the fabric will withstand boiling water, spread the dirty area over the bowl in the sink, cover with borax and pour boiling water over it, and then leave the stained piece of fabric in water with borax on 30 minutes.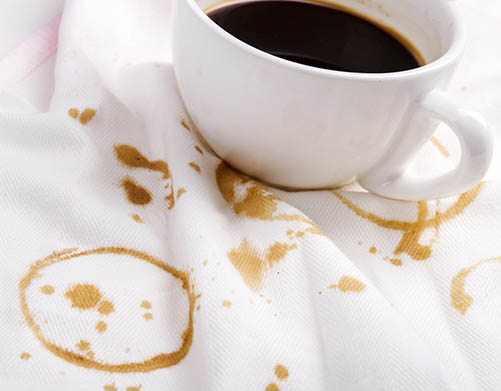 If the fabric is not resistant to boiling water, rub a thick paste of borax and hot water onto the stain. Leave for half an hour, then brush off the paste. Repeat this many times, how much do you need, to get rid of the stain.
Stain remains on white or light-colored fabrics can be treated with diluted hydrogen peroxide. Moisten the stain with a solution of hydrogen peroxide, half and half with water and on 2 hours or more to the sun, keeping an eye on, so that it does not dry out. Rinse, to remove residual hydrogen peroxide.
Coffee stains on porcelain are removed, moistening the cup with spirit vinegar. After wiping with a cloth dipped in baking soda or salt, the stain will disappear.
Denture cleaning tablets also remove coffee or tea stains. Fill a cup with warm water and drop a tablet. Leave for a few hours. All the stains will come off, if you scrape them lightly. After the treatment, wash the cups and rinse thoroughly.
To remove coffee stains from the carpet, drain the fluid as quickly as possible, how is this possible. Then moisten the stain with a mixture of 1 teaspoons (5 ml) mild detergent, 1 teaspoons (5 ml) spirit vinegar and a liter of warm water and let dry. Then use a dry cleaning fluid. Allow to dry and carefully remove with a vacuum cleaner.