Clean up pictures and frames.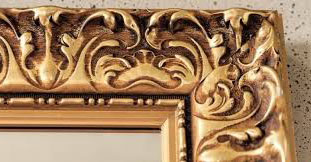 Dusty oil paintings can be washed off with a mild soap, preferably soap flakes, with a very soft brush or brush. The old ones are brightened in the conservation studios, blackened oil paintings by the action of hydrogen peroxide, but the use of this technique by an amateur is very risky.
Gilded picture frames can also be washed only with soap and water. After washing with clean water and drying, they can be repainted, if you have gold paint, sometimes appearing on the market. Varnished frames can also be washed with solvents, they do not dissolve the varnish used for their painting. Shellac and nitrocellulose varnishes can be cleaned with gasoline, while varnish varnishes (oil) – denatured. In doubtful cases, test the effect of these two solvents on the varnish on a hardly visible piece of the frame surface.